11th Annual BIKE THE ROGUE September 12, 2020      Century (100 Mile), Metric    Century (100 Kilometer/62.5 Miles), 40 Mile, and 25 Mile Rides
All four Bike the Rogue routes follow the banks of the Rogue River in this spectacularly scenic                              and remote southwestern corner of Oregon…where the Rogue River meets the ocean.                                     The Century,  Metric Century, and 40 mile rides include 7 miles along the Pacific Ocean                             with panoramic views of beaches, sea stacks, and rugged coastline.
All four rides start and finish at Buffington Park in Gold Beach,   with well stocked rest stations at the start of the event and every 7-15 miles along the route.  A Sag wagon, provided by South Coast Bicycles, will be stocked with spare parts and a mechanic for assistance with any problems you may encounter.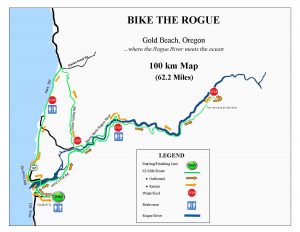 Registration starts at 7 AM with the Century and Metric Century ride starting at 8 AM.  The 25 and 40 mile routes may start anytime between 8 and 9 AM. Registration fees and maps are as follows:
25 Mile Ride: ~1100 vertical feet $40.00 starts 8-9 AM

40 Mile Ride: ~2000 vertical feet $50.00 starts 8-9 AM

Century (100 Km) Ride: ~3000 vertical feet $60.00 starts 8AM
100 Mile: ~4700 vertical feet $70.00 starts 8AM
For those who wish to explore the Century route with Google Earth click the link.
Registration: To register, download the application and waiver forms, complete, sign, and include your payment by check to Gold Beach Rotary.  Mail your registration form and waiver to Gold Beach Rotary, PO Box 1289, Gold Beach OR 97444.
Early Bird Special: A five dollar reduction in fees (per person) is available to anyone pre-registering with postmark before September 1st.
Beer Garden: Each registered rider receives a voucher for a glass of Arch Rock Beer (if 21) or a soft drink, and a wood fired pizza at the end of the ride. Both Arch Rock and Wandering Pizzailoi will have concessions at the event.

You may also sign up and register at the event.  The ride starts at Buffington Park (3 blocks east of Highway 101 on Gauntlet St.) in Gold Beach, Oregon.
A big thank you to our sponsors who have helped make this event possible.
This is a SAFETY FIRST event and Helmets Are Required.
Gold Beach Rotary is an equal opportunity recreation provider operating under special use permit within the Rogue River-Siskiyou National Forest.
Pictures From 2019 Bike-The-Rogue