CANCELED
11th BIKE THE ROGUE           September 12, 2020                     23, 28, & 40 Mile Rides
All 3 Bike the Rogue routes follow the banks of the Rogue River in this spectacularly scenic  & remote southwestern corner of Oregon…where the Rogue River meets the ocean.  The 40 mile ride includes 7 miles along the Pacific Ocean  with panoramic views of beaches, sea stacks, & rugged coastline.
All three rides start and finish at Buffington Park in Gold Beach,   with well stocked rest stations at the start of the event and every 7-10 miles along the route.  A Sag wagon, provided by South Coast Bicycles, will have a mechanic for assistance with any problems you may encounter.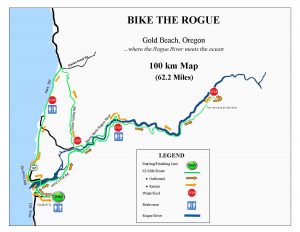 Registration starts at 7:30 AM .  The 23, 28 and 40 mile routes may start anytime between 8 and 9 AM. Registration fees and maps are as follows:
23 Mile Ride: ~1100 vertical feet donation starts 8-9 AM.
28 Mile Ride:~1600 vertical feet donation starts 8-9 AM.

40 Mile Ride: ~2000 vertical feet donation starts 8-9 AM

Registration: To register, download the application and waiver forms, complete, sign, and bring to the event along with a donation.
Root beer floats will be available at the finish for all registered riders.

Wandering Pizzaroli will be on site from 10:30AM until 1:30 to sell their wood-fired pizzas for $10 – $14.
You may also sign up and register at the event.  The ride starts at Buffington Park (3 blocks east of Highway 101 on Gauntlet St.) in Gold Beach, Oregon.
A big thank you to our sponsors who have helped make this event possible.
This is a SAFETY FIRST event and Helmets Are Required.
Gold Beach Rotary is an equal opportunity recreation provider operating under special use permit within the Rogue River-Siskiyou National Forest.
Pictures From 2019 Bike-The-Rogue